EPPS School of Ministry – Accredited!!
Teaching will Prepare.
Learning will Prevail.
Ministry will Provide.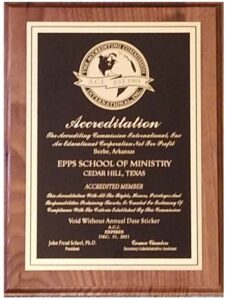 The purpose of the Extraordinary People Providing Services (E.P.P.S.) School of Ministry will be built on the importance of an innovative paradigm of equipping persons responding to the call of the work of ministry. Sound doctrine will be the embodiment of the foundational thought processes that will keep God's church contextually relevant. EPPS School of Ministry is now an accredited member of "The World's Largest Non-Governmental Accrediting Agency – Accrediting Commission International.
To educate and equip believers to win souls for Christ through teaching, witnessing, and serving
EPPS School of Ministry is a certified member of the "Association of Independent Christian Colleges and Seminaries" and the "Accreditation Commission International." Our school will be on course to be accredited after our first academic year.
Tuition fees are subject to change. Additional cost may be applied to textbooks. Refunds will be given in cases where withdrawal takes place on or before two completed scheduled course sessions.
The programs offered will provide each student with the opportunity to be more proficient in different disciplines of ministry. Teaching will prepare, learning will prevail, and ministry will provide.